A Memorial To Dave Radcliffe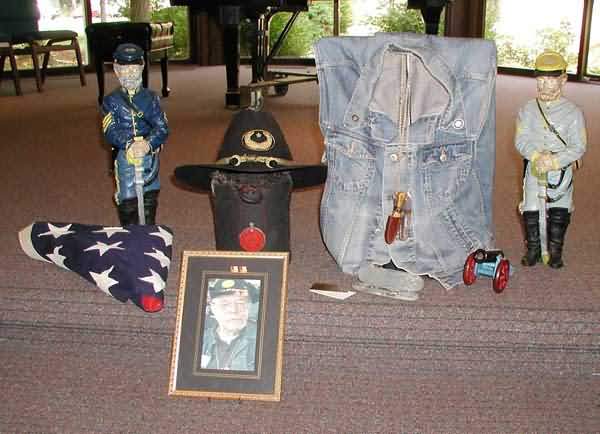 Many of the people who visit this section of the web site may not be aware that it's brain share and co-creator died suddenly on June 5th, 2002. The person who supplied the content was David V. Radcliffe. He usually spent his time with a rough draft of the Collector's Item of the Week or Picture of the Week. Well, not so much for the past 6 or 8 months. He got so many questions through this web site that he complained that he didn't have time for the CIOTW or POTW because he spent so much time on e-mail. I think near the end he preferred to talk one on one with people. His e-mail box was loaded with questions and answers regarding Civil War collectibles,
[Comments from his son] My Dad passed away suddenly the evening of June 5, shortly after I left his house. He had a busy day that day. It was typical that he was on the go all day long and that he respond to e-mail well into the night. Dave went fishing in the morning with his buddy, Doc, and for what might have been the first time, Dave out fished Doc. They stopped fishing at lunch so Dave could have lunch with another friend. Then he went to another friend's house to view a gun collection that was coming up for sale. I came over for dinner and we sat around afterwards to have a cigar and a beer. I left about 9:15. Dad walked me out to the porch, as he had taken to doing lately, I told him I would probably see him tomorrow. I got in my truck and looked up at him as he was watching me get ready to leave and had this strange feeling that I should go back up and shake his hand and tell him that I love him. But I didn't - I'd probably be seeing him tomorrow. An hour later my mother called for me to come quickly as Dad had collapsed. I made it there in less than 5 minutes, the paramedics beat me there and they could not revive him. He'd had a massive coronary and died right there in his entry hall, surrounded by cannon, photos and paintings of Generals Grant and Lee and Abraham Lincoln. He probably would have been happy to pick that room to die in, but not on that day. My parents 50th anniversary was coming up in a week, my mom's birthday in a few days. We had a big party prepared on the 30th to celebrate the anniversary - he was really looking forward to it.
The memorial service was held on June 20th. The photograph above is of the small display we placed at the chapel for the service, as Dave was cremated. He is in the original artillery grease pot, my sister put one of his favorite hats on top of it. There are some other remembrances of my father there as well, including his vest. He wore a vest (that one or a predecessor) practically all of the time. Those of you who saw him at the gun shows know he was never without it. He had a collection of little knives that he alternated wearing around his neck. At the service, I spoke, my sister Robin spoke and Brother Paul Hoemeke officiated. Luckily, he was handy with the prayers. He asked for silence for a minute for everyone to remember Dave and a good time they had with him. Like magic I remembered many years ago a brutally cold day when Dad and I went to Fort Davidson in Pilot Knob to metal detect for the day. The picture that popped into my head was us sitting in this old blue Pontiac LeMans he had, grinning at each other over hot chocolate as we looked at the pile of minie balls, cannon ball fragments and other relics we just dug up in Fort Davidson. It must have been 16 degrees outside, but that didn't stop us, and we were definitely rewarded for our efforts. Ever since that day, my dad was hooked on the Civil War and it took him all over the US, both physically and through the internet. He had so many friends and acquaintances. His e-mail was full of over two hundred messages of condolence, we brought them to the memorial for people to see. It was a very nice service, afterwards we went back to my folk's house for food and drink, many people came over and had a beer with my Dad's memory. He would have liked the party.
Two days after the service we went to Pilot Knob to spread my Dad's ashes: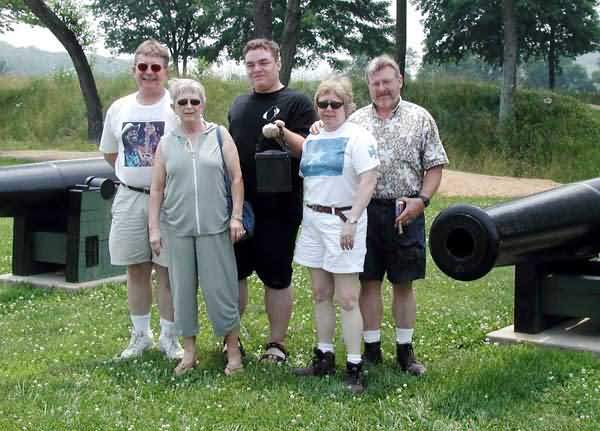 This is a photograph of our family at Fort Davidson in Pilot Knob, MO. From left to right: Reed Radcliffe, son; Joan Radcliffe, wife; David V. Radcliffe II, grandson; Robin Radcliffe Wiebe, daughter; Chas Wiebe, son-in-law. Missing from the photo is Linda Altmann Radcliffe, daughter-in-law. David II is holding the container of David Radcliffe I's ashes.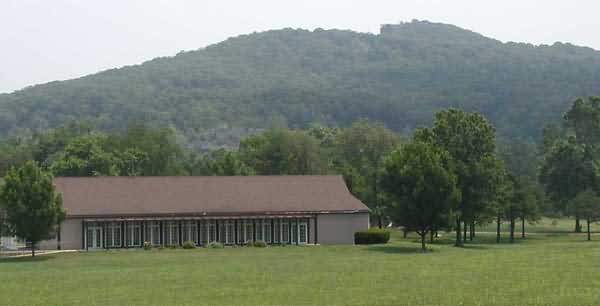 A photo of Pilot Knob with the Battlefield museum in the foreground.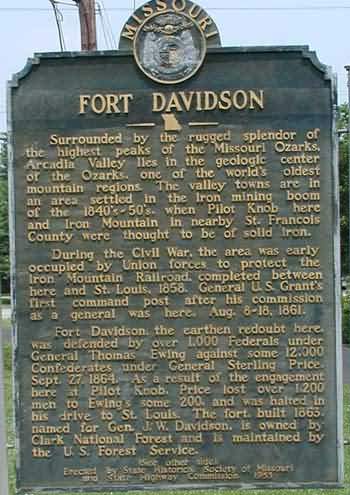 Some words about Fort Davidson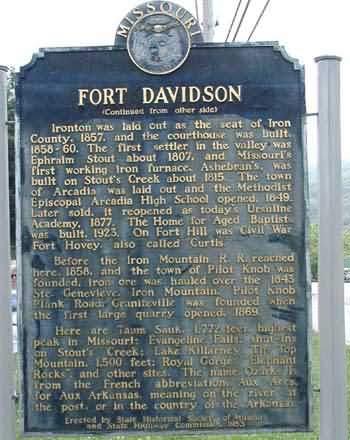 The other side of the sign
Well, I wish I could tell this story more eloquently. If my dad were around, he would already be revising the heck out of it, I'm sure. He is where he wanted to be now - where his Civil War journey began back in about 1969.

Thank you,