---
Learn - Basics

Dates in Firearm History

Frequently Asked Questions

Frequently Asked Questions
(From the Cody Firearms Museum)
Links to Forums
At Other Sites
Evaluating History of a Gun
Article by Jim Supica


---
Learn - Advanced
Factory Letters
And Military Records

Museums With Arms Exhibits

Arms Collector Groups
Other Useful Links

Book Recommendations

Book Reviews


---
Specialties

U.S. Military Arms

Factory Letters
And Military Records

Krag Bolt Removal

Which U.S. Bayonet?

M1917 Enfield Parts Markings
(from M1903.com)
M1917 Enfield Sling Instructions
M1 Garand Disassembly and Parts
(from CivilianMarksmanship.com)
---
Cartridges and Ammunition
International Ammunition Association
CartridgedCollectors.org
European Cartridge Research Association
http://www.ecra-net.de/
Cartridge-Corner.com
(headstamp info)
---
Edged Weapons
Society of American Bayonet Collectors
BayonetCollectors.org
---
Recommended
Dealers

OldGuns.net
---
Manufacture Dates
Pre-1899 Antique
Serial Numbers
(From Empire Arms. Use at own risk.)
Mauser Pistol C-96
(Broomhandle)
Ruger
(& Factory Letters)
---
Markings
Serial Numbers
(foreign language)
---
Warnings

Spotting Fake Firearms
Antiques Roadshow Advice
Fakes
Article by Jim Supica

The Anti-Gun
Crowd Wants
YOUR COLLECTOR
GUNS TOO!
Article by David Kopel
---
Collection Care & Records
(Preservation tips, inventory software, insurance)
---
Arms / Gun Show Listings
---
Living History
(Info coming soon)
Mannequins for Uniform Display
Make them yourself!
TWO PAIR OR FOUR OF A KIND
Some Civil War Era Allen & Wheelock Percussion Revolvers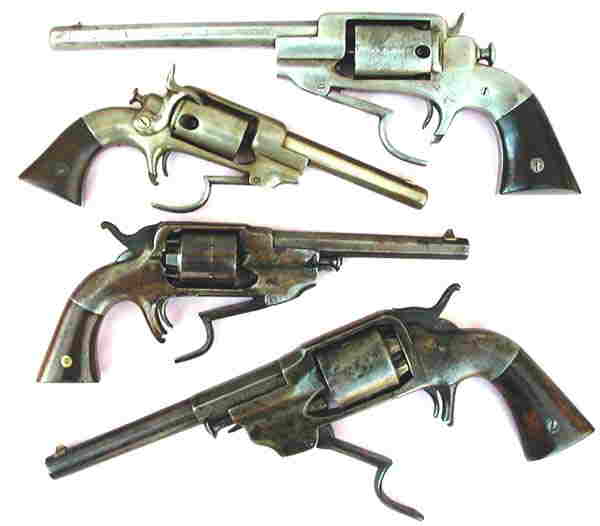 In stumbling around from show to show, I have managed to pick up some Allen & Wheelock percussion revolvers. I also have some lip fire cartridge ones, but we will "show and tell" about those later in the year.
We will look at these guns in order of birth. The first two are "sidehammer" models made between 1858-1861. Following are: Top gun - Sidehammer Navy Revolver. Bottom gun -Sidehammer Pocket or Belt Revolver.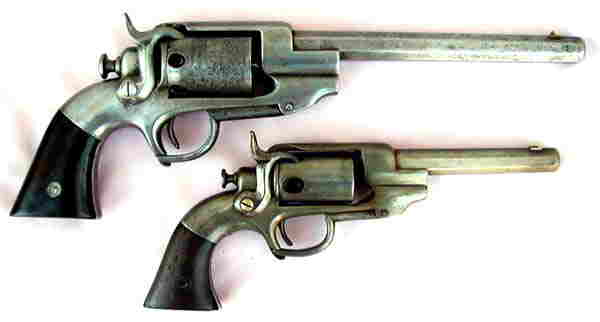 The sidehammer 5 shot pocket or belt revolver is .34 caliber. The barrel length is 4¾". Overall length is 10½". It is the standard model, except it appears to be .34 caliber. There are no barrel markings or cylinder scene. They were buffed off when someone cold blued this gun a few years back. I removed the cold blue, repaired a couple of other items and put it in my collection until I can upgrade it to one with more or less original finish and barrel makings/cylinder scene.
The only mark on this gun is the serial number 781, which is stamped inside the combination trigger guard/loading lever, at the very top. 1,000 made of both the .28 and .31 caliber specimens.
The sidehammer 6 shot Navy Model is .36 caliber with a 7¾'' barrel. The overall length is 14". It has features of both the early and standard models. It is serial or batch numbered 331. The marking on the rear left side barrel flat are: "ALLEN & WHEELOCK WORCHESTER, MASS.U.S./ALLEN'S PT'S. JAN. 13, DEC. 15, 1857, SEPT. 7, 1858. The cylinder is roll engraved with a forest scene and deer. About 750 of this model revolver were manufactured.
Both guns were originally blued finish with case harden hammer and trigger guard. Both have walnut grips and octagon barrels. The barrel and cylinder close-up pictures follow: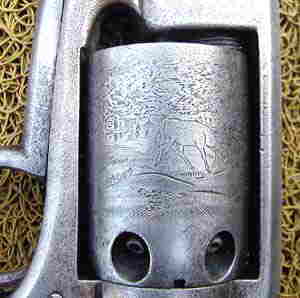 ---
Allen & Wheelock also made center hammer revolvers. They were an improvement over the side hammer models. These guns were made between 1861-1862. 536 of them were purchased by the government. Exactly how many over all were manufactured is unknown. Estimates vary with the low end being 700 for the Army Model and 500 for the Navy Model. These center hammer percussion revolvers are believed to have been made after the Allen & Wheelock lipfire cartridge Army & Navy production. Both models are considered, by collectors, to be martial weapons.
Following are pictures of the .44 caliber Army Model and the .36 caliber Navy Model: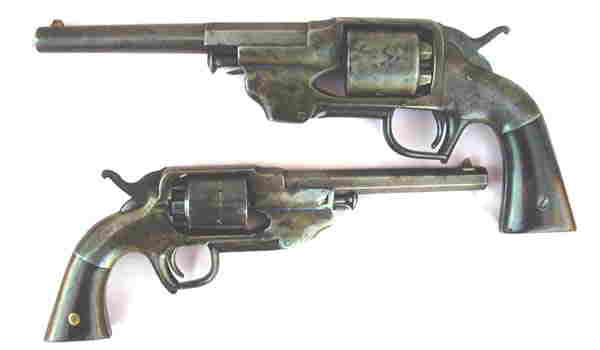 The center hammer 6 shot Army Model is .44 caliber. It has a 7½" half round, half octagon barrel. It is 13¾" overall. The cylinder is rebated at the nipple end. The guns were blued finish with case hardened hammer and trigger guard. This gun is serial or batch numbered 59. The marking on the left rear barrel flat are: "ALLEN (&) WHEELOCK, WORCESTER, MASS. U.S./ALLEN'S PT'S. JAN.13, DEC. 15, 1857, SEPT. 7, 1(858)" in 2 lines. It should be noted, on this gun, that there is no "&" between Allen and Wheelock and the date stamping stops at Sept 7, 1 as they ran out of barrel flat area! The cylinders were not engraved on this model. Following is a close-up picture of the barrel stamping: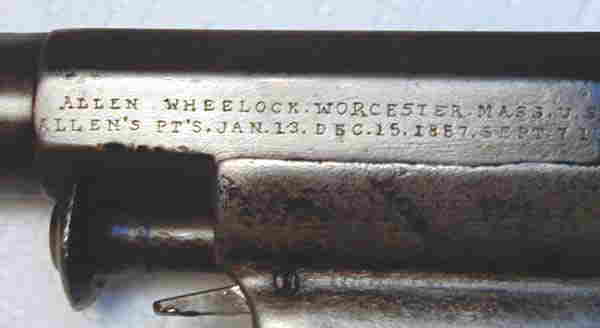 The center hammer 6 shot Navy Model is .36 caliber. It has a 5-7/8" octagon barrel. It is 11¼" overall. The cylinder is rebated at the nipple end. The guns were blued finish with case hardened hammer and trigger guard. This gun is serial or batch numbered 32. The marking on the left rear barrel flat are: "ALLEN & WHEELOCK, WORCESTER, MASS. U.S./ALLEN'S PT'S. JAN.13, DEC. 15, 1857, SEPT. 7, 1858" in 2 lines. The cylinders were not engraved on this model. Following is a close-up picture of the barrel stamping:

Dave Radcliffe