---
Learn - Basics

Dates in Firearm History

Frequently Asked Questions

Frequently Asked Questions
(From the Cody Firearms Museum)
Links to Forums
At Other Sites
Evaluating History of a Gun
Article by Jim Supica


---
Learn - Advanced
Factory Letters
And Military Records

Museums With Arms Exhibits

Arms Collector Groups
Other Useful Links

Book Recommendations

Book Reviews


---
Specialties

U.S. Military Arms

Factory Letters
And Military Records

Krag Bolt Removal

Which U.S. Bayonet?

M1917 Enfield Parts Markings
(from M1903.com)
M1917 Enfield Sling Instructions
M1 Garand Disassembly and Parts
(from CivilianMarksmanship.com)
---
Cartridges and Ammunition
International Ammunition Association
CartridgedCollectors.org
European Cartridge Research Association
http://www.ecra-net.de/
Cartridge-Corner.com
(headstamp info)
---
Edged Weapons
Society of American Bayonet Collectors
BayonetCollectors.org
---
Recommended
Dealers

OldGuns.net
---
Manufacture Dates
Pre-1899 Antique
Serial Numbers
(From Empire Arms. Use at own risk.)
Mauser Pistol C-96
(Broomhandle)
Ruger
(& Factory Letters)
---
Markings
Serial Numbers
(foreign language)
---
Warnings

Spotting Fake Firearms
Antiques Roadshow Advice
Fakes
Article by Jim Supica

The Anti-Gun
Crowd Wants
YOUR COLLECTOR
GUNS TOO!
Article by David Kopel
---
Collection Care & Records
(Preservation tips, inventory software, insurance)
---
Arms / Gun Show Listings
---
Living History
(Info coming soon)
Mannequins for Uniform Display
Make them yourself!
Krag Bolt Removal and Installation
(For U.S. models, but Danish and Norwegian are similar)
by John Spangler
Very easy once you know how, but until you learn the secret, it seems to be an impossible task.
Make sure the rifle is unloaded and pointed in a safe direction.
---
Bolt Removal
1. Open the bolt and pull all the way to the rear.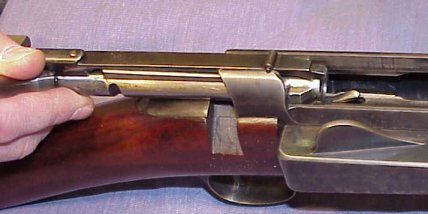 2. Hold the bolt handle with your right hand, and lift up on the extractor directly above the locking lug.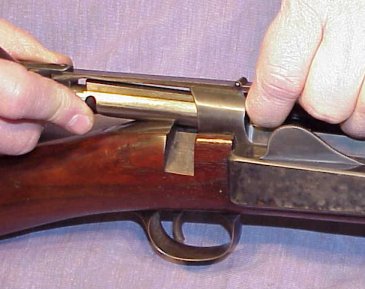 3. When the extractor has been lifted about 1/8" to 1/4" turn the bolt handle slightly to the left (open more) and pull bolt to the rear.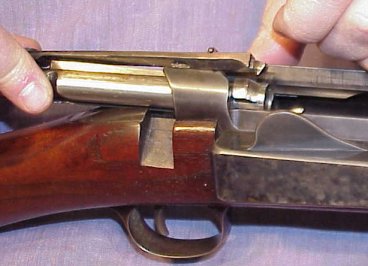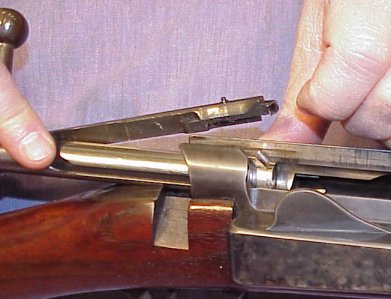 4. Pull bolt all the way out and it should look like this: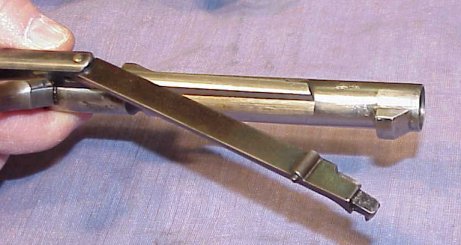 ---
Bolt Installation
1. start with the bolt looking like this: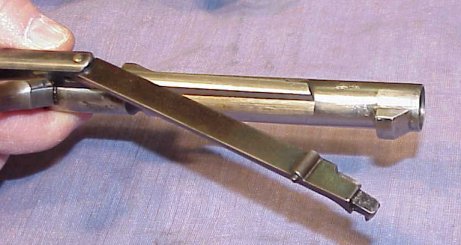 2. Start bolt into the receiver with the locking lug sticking up, and slide it forward. You may have to press down on the ejector (floppy thing on the bottom of the receiver) to get the bolt in far enough for the next step.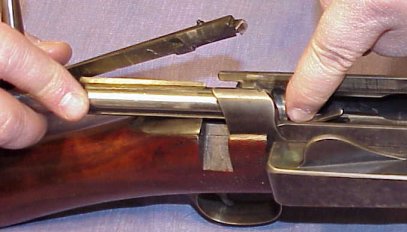 3. When the locking lug is clear of the rear part of the receiver, start to twist it to the right. While doing this, guide the extractor into position along the top of the bolt and it will snap into place.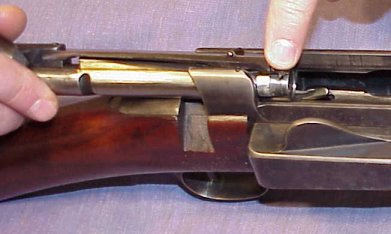 When you are done the rifle will look like this: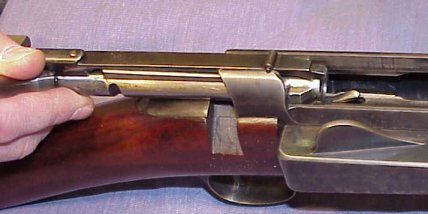 ---
Rev 7/12/02